Poland from a business point of view.
Join us on a journey during which we will show you Poland's investment potential step by step. We hope that our practical guide will help you rediscover the heart of Europe, where West meets East in a stable business environment.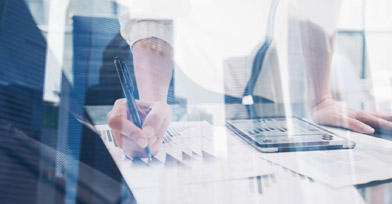 Basic information
In the centre of Europe – in the centre of interest
Political system
Government elected democratically for a 4-year term of office guarantees investment stability and continuity.
Currency
Polish zloty has maintained its strong position with regard to Euro and US dollar for years.
Area
Poland offers 312,000 km2 of investment possibilities, special economic zones and technology parks.
Population
Ambitious, hard-working and loyal – this is how entrepreneurs who have already invested in Poland describe Polish employees.
Inner centre of Europe
Strategic location
The heart of Europe, on the border between West and East and on strategic trade routes – that is how experts describe Poland's location in Europe. It is the unique geographic conditions that make Poland the centre of the European economy.
Over 700 km of coastline with access to the Baltic Sea, 27 waterways, 2,000 km of highways, 5,650 km of expressways, a modernised railway network and thousands of reliable and flexible transportation and forwarding companies mean unlimited logistic possibilities for all branches of industry.
Complete predictability
Stable political situation of Poland
Democratically elected government, stable taxation system and tripartition of power together with independent judiciary and European Union and NATO membership make Poland's political situation stable and full of perspectives.
Only a balanced political situation creates favourable conditions for investment growth and development. For the first time since 2008, Poland has joined the five most popular European destinations for foreign investors with 256 projects of direct investments.
Macroeconomic indicators
Systematic economic growth
30% of the society aged between 25 and 64 years old with higher education degrees, 1.4 million students in 2015/2016 academic year, specialised technical fields of study and knowledge of at least one foreign language among 90% of students make Polish economy one of the most quickly developing in Europe.
In addition, well-qualified personnel, very good work ethics and attractive labour costs, entrepreneurship skills, diversification of the economy and macroeconomic stability made Poland the only country in the European Union to avoid recession between 2008-2009.
What is very significant is that Polish people are reliable employees distinguished by their dedication which manifests itself in invention, efficiency and long working hours.
The government's support, trade agenda and local governments ensure partner relationships at every stage of investment.
Friendly investment environment
Investment incentives
Investment incentives are one of the most important factors influencing the level of foreign investments in Poland. Alongside the stable political situation, almost 40 million recipients of goods and services and appropriate macroeconomic indicators, economic investments are becoming an additional factor encouraging entrepreneurs to invest in Poland.
Subsidies, governmental and employment grants, income tax exemptions and even property tax exemptions in some cities and industrial zones allow the level of foreign investments to increase continuously. Branches of the following sectors may count on special investment support:
Automotive
Aviation
Agri-food
Electronic and AGD equipment manufacturing
Biotechnology
Moderns services and R&D activity.
In comparison with other European countries, our investment incentives are still one of the most interesting ones – in Eastern Poland, an investor can obtain as much as 50% of support towards the costs of implementation of projects.
Friendly investment environment
Special Economic Zones
14 Special Economic Zones (SEZ) of a total area of almost 20,000 ha and more than 312,000 employees create unlimited possibilities for new investments.
We support investment activities
At CoBouw Polska Sp. z o.o., we support investment activities undertaken in Poland and offer assistance with the choice of an appropriate zone, facilitate the formal and legal process and cooperate directly with regional Investor Assistance Centres, which offer specific information on investment conditions.
Countless benefits
Countless benefits, such as:
Access to attractive land,
Income tax exemption,
Possibility of buying a real estate in a Special Zone,
Property tax exemption,
Access to the Employment Office's grants,
Administrative support in legal and organisational issues
makes:
Special Economic Zones
a true heaven for new investments
Development of communes
Thanks to an appropriate investment policy, municipalities which used to have a low level of investments have become perfectly operated entrepreneurships thanks to the share of foreign capital, which actively shapes the Polish economy on a micro scale. That is why, among other reasons, small municipalities have become an attractive place for construction of new production plants.
Serviced land – access to utilities
It is worth mentioning that serviced plots of land are available in the zones. This accelerates and positively influences the dynamics of an investment process.
The zones are covered by local spatial management plans. This increases the speed of implementation as it is not necessary to wait for a decision on land development conditions.
Work with us – let us build your success in Poland